So, anyone who knows me would tell you that I have one serious addiction, and it is to makeup. If you put me in Sephora, I can spend literally HOURS browsing through all of their wonderful, colorful, shimmery, glossy, fantastic goodies! Unfortunately, I have discovered that my adult budget doesn't quite allow for all of the makeup splurges that my high school and college budgets (somehow) did. This has caused me to seriously cut down on the amount of makeup I purchase as well as look for very affordable options for what I do buy.
I am one of the lucky(?) people who has oily skin, and I absolutely MUST have oil-free foundation or my face becomes breakout city. I have tried so many different foundations, but I recently stumbled across one that made my heart so happy because it solved for me a budget problem as well as gave me great results.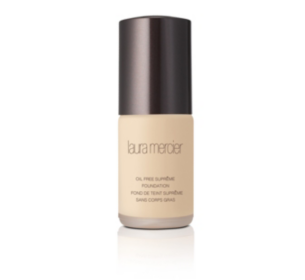 So, before this product realization, I had been using the amazing
Laura Mercier Oil Free Supreme Foundation
after it was recommended to me by a consultant at Sephora.
Don't get me wrong; this foundation is fantastic! It has an amazing, lightweight feel and keeps oil under control while not making my face feel dried out or look cakey. It is terrific; but on my budget, it is a splurge at (minimum) $43 per bottle. While I liked using it for special occassions and evenings out, I couldn't justify this being my everyday foundation. So, the search continued.
I tried a few drugstore brands, which I mostly peruse at Target. I always noticed a section of very inexpensive makeup by the brand name of ELF, but being so inexpensive, I never thought that its foundations would work well for my picky skin. One day recently, in a pregnant, hormonal fog of feeling "I am looking awful and feeling tired and unattractive," I took the plunge and bought a bottle of
ELF's Flawless Finish Foundation
in Porcelain, which is oil and paraben free and cost only $6. Added bonus: it has a built in SPF 15. I was blown away! Not only did it feel just as good on my skin as the Laura Mercier foundation that I love, but it had serious staying power. And, one night when I fell asleep with it on, I woke up with my skin breakout free and still looking really nice. I was SUPER impressed, and I will recommend this foundation to EVERYONE!!
That same day, I went home with several other ELF products. I told you already: My name is Brittney, and I am a makeup-aholic. But at these prices, I can now afford to be one! ;) In addition to the foundation, I came home with an
ELF Studio Blush
in Tickled Pink ($3), a
Studio Bronzer Palette
($3), and a
Tone Correcting Palette
($3) to help cover up some mild rosacea I have on my cheeks. Each of these worked beautifully! The bronzer palette has four different colors in it, and you can combine them in any way you want to make your perfect glow! Use the darker combos for summer, the lighter combos for winter, or swirl it all around for a perfect year-round glow. I also purchased a couple of ELF brushes: the
Powder Brush
($3) and the
Complexion Brush
($3). Although inexpensive, these brushes feel soft and luxurious and give great coverage and control with applications of blushes, bronzers, and powders.
With all of this talk about how great these products are, I may have to make a pitstop at Target on the way home to try a few more products. I am definitely going to double up on the complexion brush as I like to use it for my loose powder and my bronzer application. If you are a makeup afficianado like I am, definitely look into trying some of the products from this brand! They have my seal of approval! :)
Y'all Come Back Now, Ya Hear?
Brittney