Hey, Blogosphere! I hope you are having a great day today. Today marks my 28th birthday, and I am sure it would have been even more super happy and fun if I had gotten to be at home or by a pool instead of working all day. Ahh...adult life!
Anywho, I decided to spend a little bit of time looking for a simple sewing project to attempt this weekend. I have some terrific cotton fabrics I ordered from fabrics.com (one of my favorite places to shop thanks to a friend who is sew-saavy), and I really want to attempt to move from the realm of sewing all things rectangular (baby blankets, burp cloths, diaper changing pads, etc.) and start trying my hand at some clothes.
My friend Kalee, another Mississippi to NOLA transplant, has a beautiful little girl whom I would love to make a dress for, so I think I will choose her as my muse and work from there. A quick trip to Google to find a few patterns, and here is one of my favorite options I came across. :)
Sew Jereli: Baby Dress
- I feel so lucky to have stumbled upon this talented sewer's site! The dress she has posted here is too cute, and the pattern seems simple enough to attempt for a novice like myself. The only concern I have here is that my friend's little girl is already in a size 2T. This pattern is for baby girls ages 6-12 months. I am not sure I have the skill set yet to attempt to customize measurements to bigger sizes, but I figure if I will try at all, this would be a good pattern to use.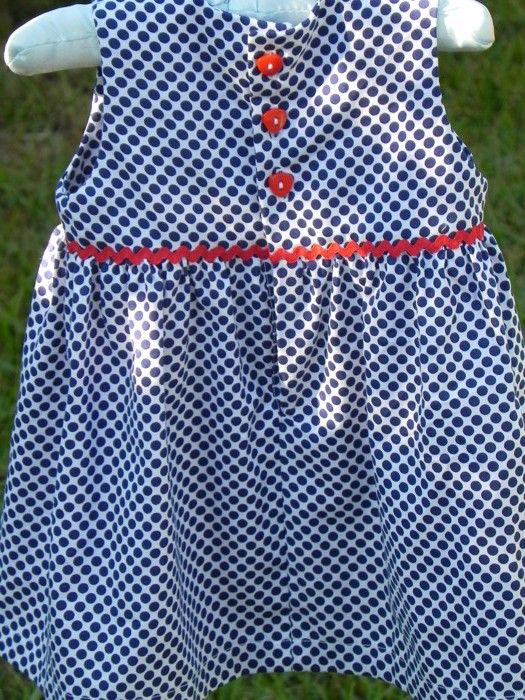 Pictured Above: Sew Jereli's Dress. Adorbs! (credit to her site)
I think Sew Jereli's dress pattern with an open bottom might pair really well with this
See Kate Sew
tutorial:
Gingham Style // Serged Ruffle Bum Diaper Cover Tutorial
. I love the idea of having a dress that features a little ruffle bum sticking out from an opening in a coordinating fabric. Too cute! :)
So, that is what I am thinking about on this beautiful, birthday afternoon. I will be taking in a three year old t-ball game this evening with some good friends and their sweet babies. Be still my heart! :)
Y'all Come Back Now, Ya Hear?
Brittney